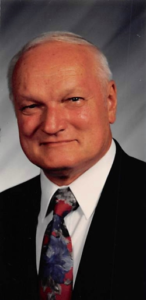 One of my heroes was buried Friday.
Bernard B. Vinoski, Sr, MD, Colonel, US Air Force (Ret), was my dad's cousin. They grew up together in little South Connellsville, Pennsylvania.
His obituary is here – in it you can read all about his life of incredible accomplishment and service.
To me, he was at first just a name, one that shared my last name, in a famous lady's book. Anita Bryant mentioned him several times in print because he was her physician and friend, so at a very young age I knew of Bernie Vinoski.
I didn't get to meet him until I was in my mid-thirties. Miss ViVi and I lived near Atlanta at the time and decided to join some old college friends for a week on the beach at Hilton Head, South Carolina, a short drive from where Bernie and his lovely wife Joyce lived in Beaufort. At that point, some of my siblings had already met him, and knowing we'd be near him, we contacted him to see if he would like to join us for lunch.
He did, in his own way. He directed us to take a carriage tour of beautiful Beaufort, then come out to his house to eat. We did; the tour was lovely, and then we learned later that day that there are no strangers to Joyce and Bernie Vinoski. We were dear family, not newcomers to their home – and so were our friends. It was the first of a number of visits we made over the years, and our reception and time with them were always the same. Miss ViVi put it best: "When I visited them, my IQ went up by twenty or thirty points, and I felt like an 11 on a 10-point scale."
It amazes me to think now that our total time together measured in mere hours, which seems ridiculous given the space Joyce and Bernie take up in my heart.
I learned important things from Bernie. I knew my dad's childhood was far from idyllic, but he talked little about it. Bernie revealed some of the horrors my dad experienced, and I got the sense that Bernie tried to help as best he could.
Bernie met me at a time when I didn't think I wanted children, and somehow knew that I'd change my mind. My sons got to meet Joyce and him the last time we saw him, and I'm awfully, awfully glad they did (and that he was right).
I've been a World War II buff since childhood, and was fascinated to learn Bernie had been a bombardier on B-29s in the Pacific. I told him once I was reading a book about Iwo Jima, and he said, "Thank God for those boys who took that island. We had to ditch our plane there shortly after they took it, and if it weren't for them I wouldn't be here talking to you." But he also shared that before he and his crew were retrieved from the island, they woke up one morning to discover that the men in the foxhole next to theirs had had their throats slit in the night by enemy interlopers. Joyce knew never to shake him awake because of that. I've always had a deep appreciation for those who've fought for my freedom, and Bernie's stories made it that much deeper.
His story about decided when he started his practice as a family physician that he'd find something else to do after 25 years still sticks with me. He was getting close to that mark, and shared his concern about it with the Air Force recruiters who had an office near to his. It didn't take them long to land him as a Flight Surgeon. He was probably around my age at the time – I hope I can be as open to new adventures!
Bernie's passing comes just days after my previous post about reassessing my life. Now I've firmly decided to try to be more like him. I seriously doubt I have the years or ability to match his accomplishments, or the demeanor to match his gregariousness, but a man can try.
This is the first time I've simultaneously felt such a terrible sadness for losing someone dear, and a great joy for having known such a man.