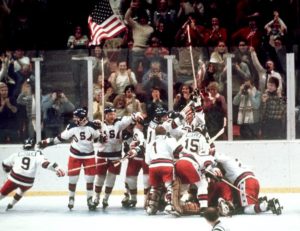 Note: This is a post I originally published on LinkedIn in February 2015. Yesterday I got the news that my old friend Pat Dowd had just died after a long battle with cancer. I'm republishing this here in his honor. My mind is running through a whole bunch of high school memories of Pat, not least of which is the basketball game mentioned here.
"Gentlemen, you don't have enough talent to win on talent alone." – Herb Brooks
Thirty-five years ago today the US Olympic hockey team beat the Soviets in one of the most spectacular upsets in sports history.
A year or two ago I watched a replay of the whole game. What I took away is that, logically, there is no way on earth the US team could have won that game. They were outskated, outmaneuvered, and generally outclassed by the Soviets, who were an obviously better team. But it was the pros from the USSR who were the ones outscored in the end.
The difference was heart. The US players to a man believed they could win and willed themselves to win. The USSR players? Meh.
Heart is a game-changer. I saw it for myself around the same time our Olympians pulled off their famous upset. My Ironwood Catholic Ramblers JV basketball team was playing a school we were used to beating, the Marenisco Milltowners. But we came out flat and they didn't, and we were completely outclassed in the first half. We found ourselves down by nine and on our way to our own upset, but the other way around. Suddenly we were the underdogs.
My buddy and fellow guard Pat Dowd and I got chatting after the coach chewed us out in the locker room at halftime. We decided there was no way we were going to lose this game, and that we would each personally make a very different showing in the second half than we had in the first.
And we did. We went out there and played like demons possessed. Our fire was contagious, because within a short time the rest of our ICHS team started playing that way too. We roared back and won the game by thirteen points.
It wasn't by any means the Miracle on Ice. I'm pretty sure it lives on in my memory alone. But man oh man, did that win feel great.
Whatever you're doing, find that fire. Find that heart. It'll make all the difference in the world.
"Boys, we went to the well again, and the water was colder and the water was deeper." – Herb Brooks
PS – Coach Herb Brooks is remembered by his players even today for his many aphorisms. Lest you think I haven't experienced (oh so many times) the flipside of heart and victory, be aware this "Brooks-ism" hit home for me too: "You're playing worse every day, and right now you're playing like the middle of next month."