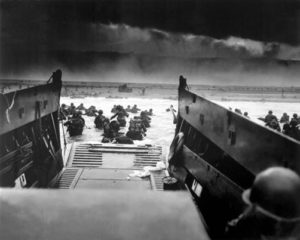 Photo by Robert F. Sargent, US Coast Guard
It's one of the most iconic images from WWII. Usually it's used to highlight the impossibly courageous men shown storming Omaha Beach during D-Day, and quite appropriately so.
This article, though, focuses instead on the boat, and its inventor and manufacturer, Andrew Jackson Higgins.
Who's ever heard of Andrew J. Higgins? Pretty much nobody now, other than antique boat aficionados and die-hard WWII buffs.
And yet without him, we may well have lost that crucial conflict. None other than President (and former Supreme Allied Commander) Dwight D. Eisenhower called Higgins, "the man who won the war for us."
Higgins was simply a builder of small boats. But first he was a failed logger. Prior to the war, he moved from his native Nebraska to Louisiana to harvest hardwoods in the swamps. Once there, he quickly realized he needed a good way to get to them. So he enrolled in a boat-building correspondence course, then developed his own shallow draft boat with a protected propeller and a "spoonbill" bow, and enough power to beach and extract itself. The boat worked great, but the logging business didn't, and eventually went bankrupt. However, in the meanwhile Higgins had built up a parallel operation to build his swamp boats, and this became his focus. Thus was born Higgins Industries.
He thought his boat might have some military use and pitched it to the US Navy. Despite some fits and starts in the 1920s and 1930s, that effort never went anywhere.
But the Marine Corps had taken notice and had a very different approach:
The ramp boat was typical. In China, the Japanese had been using ramp boats along the coast and up the shallow creeks for years. We did not possess a single boat of this type. Yet, without it, the Marines never could have landed on a Japanese island and the Army would have been crippled in Europe. To get the boat, we went straight to the builder, Andrew Higgins, discussed plans with him and he built the ramp boat while the Bureau of Ships was still dazed by the temerity of the suggestion. (Holland M. Smith and Percy Finch, Coral and Brass: A Life Fighting With the Marines)
Higgins's LCVP (Landing Craft, Vehicle, Personnel) became a cornerstone of the Marines' Pacific island-hopping campaign that turned the tide against the Japanese. Along the way it also became a key tool in the serial invasions of North Africa, Sicily, Italy and France that helped win the war against Germany, and of course became famous in that invasion of all invasions, Operation Overlord.
Back in the Pacific, another key element in defeating Japan was disrupting the supplies of men and materiel to the chains of distant islands Japan had conquered. That effort took submarines, battleships and cruisers, yes – but also relied heavily on the tiny PT (Patrol Torpedo) boat made famous by President John F. Kennedy. Higgins was a key designer and builder for these boats too, putting his own money into getting the thing right:
Higgins Industries had considerable difficulty translating the Sparkman and Stephens design into a satisfactory boat. PT 5 was eventually placed in service on March 17, 1941, but its performance was disappointing. The original PT 6 was never placed in service. It was sold to Finland in 1940. On his own initiative and with his own capital, Andrew Jackson Higgins decided to build a modified version. When it was delivered in February 1941, it was a Higgins design rather than a modified Sparkman and Stephens, and was accepted enthusiastically by operating personnel, many of whom considered it superior to any previous type, including the Scott-Paine. (At Close Quarters: PT Boats in the United States Navy, Captain Robert J. Bulkley, Jr.)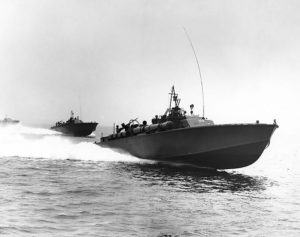 US Navy photo
When all was said and done, Higgins Industries would produce the largest number of PT boats of any manufacturer.
The PT boats would also provide a template for Higgins Industries after the war they helped the Allies win was over. Higgins formed Higgins, Inc., to make a variety of handcrafted wooden boats for the personal watercraft market. His company not only made great boats, but was ahead of its time as an employer, hiring racial minorities, the elderly, and the disabled, and paying all equally.
Andrew Jackson Higgins died in 1952. His company continued to sell watercraft under various owners until 1975. Only about 200 remain, and are highly prized by collectors.
Article sources:
http://www.higginsmemorial.com/higgins.asp
http://www.nola.com/300/2017/06/andrew_higgins_landing_craft_world_war_ii_06042018.html
https://www.defensemedianetwork.com/stories/higgins-and-his-war-winning-boats/
http://www.higginsclassicboats.org/
Coral and Brass: A Life Fighting With the Marines, Holland M. Smith and Percy Finch, ©1949 Charles Scribner's Sons, ©2017 Motte Publishing
At Close Quarters: PT Boats in the United States Navy, Captain Robert J. Bulkley, Jr., ©1962, 2017 Naval History Division