Three years ago, LinkedIn invited articles featuring the author's best advice (hence the hashtag). I was just re-reading the one I published there (on 2/15/15), and decided to re-publish it here on my blog, with an update, because it's even better advice today in my opinion.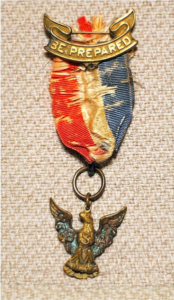 Here's my #BestAdvice:
Several years ago I had the pleasure of meeting Mark Graver, President at Ivy Tech Community College in Indiana. In asking about his background, I was impressed and not a little intimidated to learn his first career was navigating B-52 bombers. A guy with his experience is certainly worth listening to, I thought.
In asking about my background, he learned that I have two young sons, the older of whom at the time had just started in Cub Scouts, and that I'd signed up to be his Assistant Den Leader. Mark jumped all over that, recommending highly that I do everything in my power to try to see both of my boys through to earning their Eagle Scout rank. He shared an observation from his military career that it was very common to see, among the military awards senior officers display in their offices, their Eagle Scout badges as well. He added that it was something he saw routinely with the civilian business leaders he visits in his current career too.
Mark's endorsement of Scouting for my sons bolstered my already existing belief that it would be a boon for my boys. Only the willfully obtuse can miss that our society is failing boys in many vital areas, and I was already convinced of the value of Scouting for teaching my sons important lessons they wouldn't get anywhere else.
More important, Mark did a fantastic sales job for one of the most important aspects of Scouting: it not only makes our boys strong, self-sufficient and ethical; it makes them leaders. Not just any leaders, but in-the-trenches, put-others-first, humble, productive, lead-by-example leaders. You know – the kind we sorely lack in every corner of the world today.
Now, several years into the Scouting experience, I realize it's not just the boys who gain valuable leadership skills. Both my sons are now in Scouting, and my older one just entered his final year as a Cub Scout. I was his Assistant Den Leader his first year, then his Den Leader and Assistant Cubmaster, and now I'm Den Leader for my younger son. Leading the young Cubs, along with their parents and guardians, has taught me things about leadership I never would have learned in my job or anywhere else in the adult world. Best of all, we've had loads of fun along the way, and have made some great friends.
Thanks for your advice, Mark Graver. I'll continue to work to keep my sons on track for Eagle. And I'll continue to value greatly the lessons I learn personally along the way.
UPDATE 1/26/18: Since I wrote this, my boys have continued to advance in Scouting. My older son John moved into Boy Scout Troop 292 and is a First Class Scout, working on his Star rank (second-to-last before Eagle!) My younger son AJ just started the one-year countdown to crossing over to the Troop as well, and is a Webelos Scout in Pack 3391. I continue to be amazed at what Scouting is doing for them. And for me – I'm now also a Committee Member of the Troop, and actively involved in planning their outdoor activities every month. We're all doing things we never would have without Scouting, like indoor climbing walls and spelunking and sailing and wilderness survival and on and on.
Both boys are now active leaders in their respective groups.
One of the biggest things for me has been the continued development of my own leadership knowledge. In addition to the work I do in the Pack and Troop, I'm a "novitiate" in Wood Badge, BSA's advanced leadership course (a truly life-changing exercise). I expect to complete that, my adult version of Eagle (since I was never a Scout myself), this May.
If you like what you've read here (or even if not!), let me know in the comments, or send me an e-mail at jim@vinoski.net. Please share! And please feel free to connect with me on LinkedIn.
©2018 James M. Vinoski. All rights reserved.